MABLE
Finally, here it is! The long-awaited remake of my old tool - the
MiB (Modular Item Builder)
As I said a loooong time ago, I wanted to re-make it. And so I did.
Check out the forum thread if you need more information or help.
Link should be on the right.
Comment and rate after downloading and testing, please.
---
What this is
Thsi is a tool that allows you to modify your module's source code with a
GUI (Graphical User Interface)
.
It has a spreadsheet-based interface, which can speed up the work, and awesome dialog boxes (I'm particularaly proud of them...
)
---
Screenshot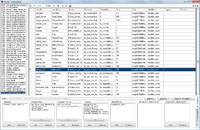 The current version of this tool can only modify the module_items file.
Support for other files will be added in future.
Note:
As MABLE has not yet expanded to cover troops, I am leaving MiB to hang around, so people can still use it if they wish.
---
Version History
0.2
- Added move up/down and copy/paste features, bugfixes.
0.1
- Initial release